Things To Do On The Gold Coast
Things to do on the Gold Coast are infinite! This incredible part of Australia's coastland boasts pristine beaches, fun filled theme parks, natural hinterland, endless shopping and stunning attractions, making it the perfect holiday destination. Read on to discover the best things to do on the Gold Coast.
1. Visit the Beaches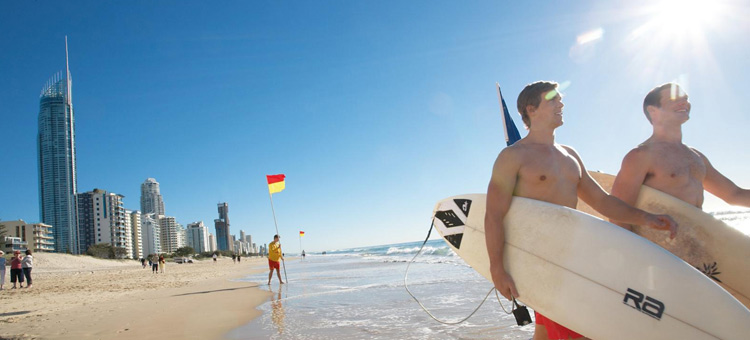 The Gold Coast boasts many famous beaches with endless kilometres of white sand and turquoise water. Exploring these beautiful shores is a must while visiting.
Begin your day at the iconic Surfers Paradise beach, ideally located at the end of Cavill Mall where the convenience of restaurants, bars and shops are waiting to be explored after a relaxing day spent on the beach. One of the most popular Gold Coast beaches is the super break at Snapper rocks, Coolangatta. This historic surf spot is home to one of the worlds' largest surfing events, the Quiksilver Pro. There are also a myriad of other festivals held in this beautiful spot including the 50's and 60's 'Cooly Rocks on'.
Burleigh Heads, well known for the surf and headland walk, is nestled along the Burleigh heads national park and is dynamic hot spot which offers a variety of activities including surfing, yoga classes in the surrounding parks, boutique shopping and great restaurants.
For anyone with young kids or those who prefer calmer waters, head towards the Broadwater or a little further south to Kirra Beach where the water is protected, making it a perfect location for paddle boarding, kayaking and other fun filled activities. Tallebudgera Creek is another beautiful location with calm waters and stunning surroundings.
Nobbys Beach located between Miami and Mermaid waters is a great surf spot and ideally positioned amongst trendy cafes and bars. Another hot spot is Main Beach, which, at an early stage of the Gold Coast's development, was once the main beach of the coast. Here you will find beautiful boutique shops, restaurants, cafes and bakeries.
Broadbeach hosts a variety of entertainment away from the beach but is well known for having good surf and even a great place for the kids to play once they're done at the beach! The Gold Coast's first 'all abilities' playground, Pratten Park, provides a range of entertainment like spring toys, stepping blocks, a carousel with harness even a mermaid in the undersea zone. As well as all of this, Broadbeach will also always be famous for being the heart of the Gold Coast's dining scene.
There are a number of incredible spots along the coastline of the Gold Coast, but this list should give you a good start!
2. See the Theme Parks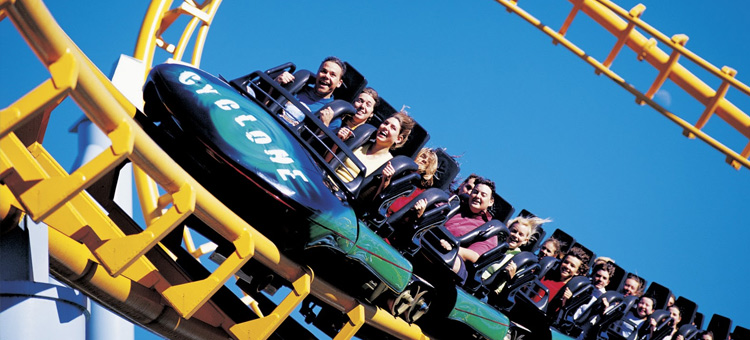 The Gold Coast is famous for fun, offering many exhilarating and entertaining theme parks to choose from.
Dream World is the largest theme park in Australia and provides entertainment for the whole family. This park is jam-packed with live shows and wild rides, catering to every individual's thrill seeking desire! Movie World is home to the steepest roller coaster drop, exhilarating rides and fantastic shows. Meet your favourite movie stars and action heroes, watch a stunt driver at work, or be entertained by a 4 dimensional show.
Sea World offers a fantastic family experience filled with majestic animals and creatures that will enthrall and delight the entire family. Learn about the animals, watch the exciting shows or be entertained on one of the amazing rides!
Wet 'n' Wild is a playground just waiting to be enjoyed with awesome water rides that will keep your heart pumping with excitement as you race your friends or take on some of the largest water slides in Australia! White Water World owned by Dream World makes use of the latest technology to design water powered entertainment for people of all ages. This park is home to the world's first quadruple lane Octopus racer and the nation's biggest gurgle 'The Rip' as well as a multitude of other rides to go crazy on.
Australia Zoo – Home of the Crocodile Hunter! With over 1,200 different animals to see, amazing wild life shows, including interactive experiences with koalas, kangaroos or even a snake, this magical place is a must see for anyone visiting Queensland!
For More Info Visit:
Gold Coast Theme Parks
3. Explore the Gold Coast Hinterland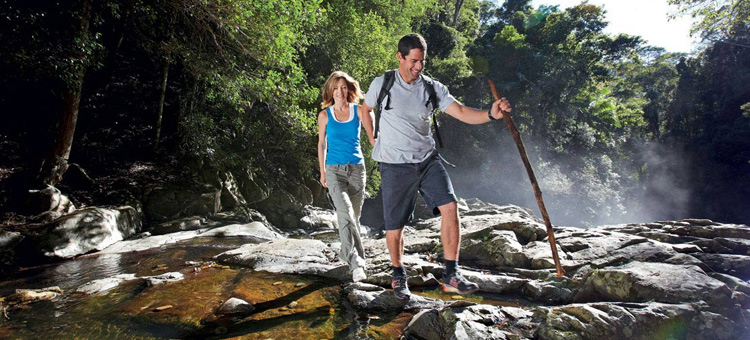 The Gold Coast hinterland has a wide variety of natural delights including tree-top walks; subtropical rainforests; crystal clear waterfalls, lakes, rock pools, swimming billabongs and many walking paths of various degrees of difficulty for tourists to explore the wonders of the Gold Coast.
National Parks on the Gold Coast include: Lamington National Park; Tambourine National Park; Burleigh Heads National Park as well as places within these national parks that are a must see! Head off to Tambourine Rainforest Skywalk, a one and a half kilometre steel structured sky walk with a cedar creek viewing station from which visitors can see beautiful surroundings from a fantastic aerial perspective.
Lamington National Park boasts the O'Reillys Treetop Walk, a steel cable bridge suspended 15 metres above ground from which one sees stunning canopy views of rainforest and wildlife. This amazing nature activity is free and a great family day out.
Do something unforgettable by taking an underground journey to explore the Tambourine Glow Warm Caves. This natural wonder is to be found at the Cedar Creek Estate where you will be amazed by these phosphorus wonders of nature.
Similarly, O'Reilly's Rainforest Retreat runs tours in the O'Reilly's Plateau section of Lamington National Park to more Glow Warm caves, which are available to guests of the retreat as well as day visitors. Probably the best known waterfall on the Gold Coast is the Natural Arch in Springbrook National Park. A well-marked circuit means you are able to view this rock formation in a cave from both above and below the waterfall. The walk is rated 'easy' and is only a kilometer, but the Buttress Roots, strangler fig trees, ferns and flora plus vibrant bird life such as the rainbow Lorikeets make this walk and unforgettable experience.
Other remarkable waterfalls on the Gold Coast are; Curtus Falls; Cedar Creek Falls and Witches Falls in Tambourine National Park. While Lamington National Park is home to the beauties of Elabana Falls; Box Long Falls; Gwongurai and Chalahn Falls; Coomera Falls; Running Creek Falls and Black Canyon Falls that promise to enthrall, delight, and leave you in awe. Lipp Falls in the Binna Burra section of Lamington National Falls are quite unique and offer a great swimming hole for those who like to finish their walk with a dip!
If you and your family desire something a little different in the way of a water experience, make your way to Cedar Creek Falls and Rock Pools or Currumbin Rock Pools where swimming, picnicking or eating at nearby cafes' make a perfect day out on the Gold Coast.
If a walk in the Hinterland with oceans views is what your heart desires, Burleigh Heads National Park is where you see spectacular views up and down the Burleigh Coast. Keep an eye open for koalas, turkeys and goannas, not to mention whales and dolphins, depending on the time of the year. Other enjoyable walks are in the Springbrook Plateu area of the Springbrook National Park and Green Mountains section of Lamington National Park.
4. Don't Miss the other fun filled Gold Coast Attractions;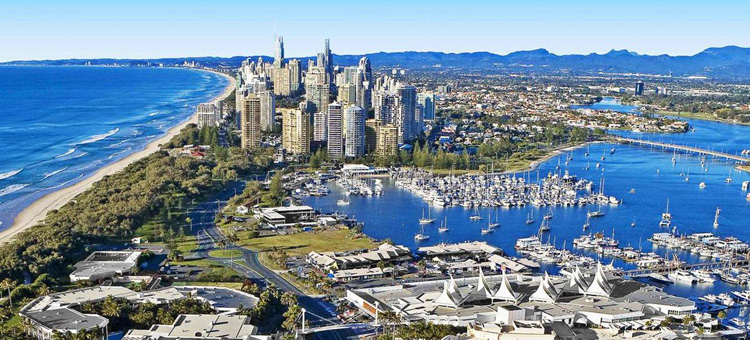 Infinity is a popular, interactive maze located in the heart of Surfers Paradise that boasts special effects, music, aromas and many other surprises for you and your family or friends to work your way through. The Aqua Duck is a boat ride with a difference! You see the Gold Coast from the streets before setting sail and hitting the Broadwater in your boat/bus before heading past Marina Mirage and the famous Versace Hotel!
The most breathtaking views of the Gold Coast are from levels 77 and 78 of Q1 from the Skypoint Observation Deck. Observe the mind blowing hinterland scenery and shoreline of the Gold Coast from the floor to floor glass or, if you're really after a treat, the skywalk.
For a night out you'll never forget, Dracula's put on a dastardly dinner and show combination that keep both locals and visitors coming back. It's a night of ghostly fun, great food and gourmet cocktails. Next door is the world class Jupiter's casino; join the fun anytime, as Jupiter's is in the business of entertaining 24 hours a day! The superb facilities include restaurants, bars, dance floors, shows and, of course, the casino.
5. Shop!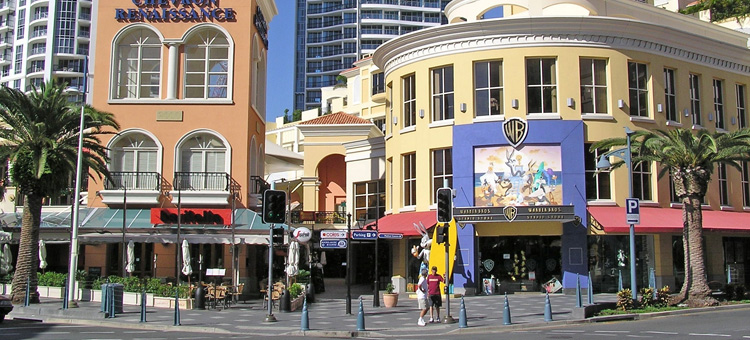 A favourite pastime for everyone, whether you are looking for a souvenir to send home, in search of a locally made item from one of the boutique markets or just wanting to browse at the trendy shops at one of the Gold Coast's best shopping centres, your options are endless!
One of Australia's top five shopping centres, Pacific Fair, offers over 400 specialty stores with a wide range of dining and bar options. The newly renovated centre contains a five star indoor/outdoor leisure and entertainment area. Pacific Fair has everything you need and more!
Harbour Town is the Gold Coast's leading outlet shopping centre! Browse hundreds of your favourite brands at bargain prices year round.
The newest addition to the Gold Coast, pristine Robina Town Centre provides you with an array of fantastic shops, great restaurants and plenty of entertainment including, AMF Bowling, M9 Laser Skirmish or the VMAX Event cinemas.
Australia Fair in Southport's business district is situated across the road from the beautiful Broadwater and has approximately 210 shops. There are plenty of places to grab a bite as well as a great Birch, Carroll and Coyle cinema just waiting to be enjoyed.
Cavill Mall is centre stage in Surfers Paradise offering everything from leading surf brand stores to haute couture fashion, to several UGG outlets, as well as a great spattering of bargain and souvenir stores. Towers of Chevron Shopping Centre is an area with boutique fashion and homewares stores as well as a huge variety of restaurants and cafes to relax in once you've reached your retail therapy limits!
If a market experience is what you are after on the Gold Coast, Carrara Markets are Australia's largest markets and offer over 400 stores selling everything from fashion to food and are open every Saturday to Sunday from 7am to 4pm.
Surfers Paradise beachfront markets are have a lovely casual vibe, meaning you can stroll through and just enjoy the atmosphere or try some of the delicious treats, indulge in a unique art piece, grab a new necklace or even entire outfit! Drop by Wednesday, Friday, and Sunday from 3pm to 8pm for a great night out.
The Village Heads markets are held at Burleigh Heads on the first and third Sunday of every month from 8.30am to 1pm. This marketplace is used as a platform for new designers, creators, photographers, and collectors to exhibit their talents and is popular for visitors and locals alike.
The whole family will enjoy the Broadbeach art and craft markets on the first and third Sunday of the month. Approximately 150 stalls display local craft, sell fresh produce, jewellery, and fashion. Every second Sunday of the month visitors are welcome at the Coolangatta arts and craft market on the southern Gold Coast shores, where fresh produce, local fashion and unique homewares are on offer. You are spoilt for choice when it comes to things to do on the Gold Coast! If you're feeling overwhelmed or would just love some local advice speak to the experts at Discover Queensland before booking your next holiday.